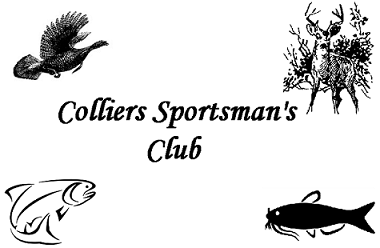 Welcome to Colliers Sportsman's Club
Putney Lane, Colliers, WV.
Turkey Shoot Sept 19, 2010 @ 1:30pm open to the public
Here at Colliers Sportsmanís Club we offer a range of things for you to enjoy.
There is a lake to enjoy fishing and a small shelter for your family to relax and eat at. We stock our lake twice a year. Once for trout and the second time for trout and catfish. We have a limit of four fish for the entire family. We also hold fishing tournaments open to the public throughout the summer and a youth fishing derby with a covered dish club picnic. Please check out the event schedule for list of dates and times of our fishing events.
We also have a bow range that has bow shoots (open to the public) also throughout the year. We have a wide range of targets for use for just going and shooting and for our bow shoots. Also check our event schedule for dates and times.
At Colliers Sportsmanís Club we have a nice rifle range for target practice and sighting in your rifle for the hunting season. We have turkey shoots open to the public. Please check out our event schedule for dates and time.
We also have a very nice size clubhouse for members to rent. Our clubhouse has a bar, kitchen, pool table, a few video games, jukebox, and deck. Outside our clubhouse we have a shelter with an area for the children to play.
Members of Colliers Sportsmanís Club are permitted to hunt on club land.
No guests of a club member are permitted to hunt, fish, and use of rifle range or bow range.
This organization shall operate without profit; shall be non-political and non-sectarian.
Email us to be put onto a Email list for updates on our Event Schedule.
If you would like to join and don't know a member to sponsor you please stop by on our officers meeting and meet us and ask about joining. We are always looking for new people to join.
~Links~
Photo's of our club (Coming Soon)